Wausau Window and Wall Systems
We engineer and manufacture aluminum window and curtain wall products for the nation's finest buildings. Our associates benefit from challenging work that fosters professional development in a state of the art facility with a best in class safety record.
Mission Statement
Wausau Window and Wall Systems
Wausau Window and Wall Systems will provide windows and wall products for the nation's finest buildings; maintaining industry leadership in value, quality, service and reliability by intensely focusing on the needs of our customers.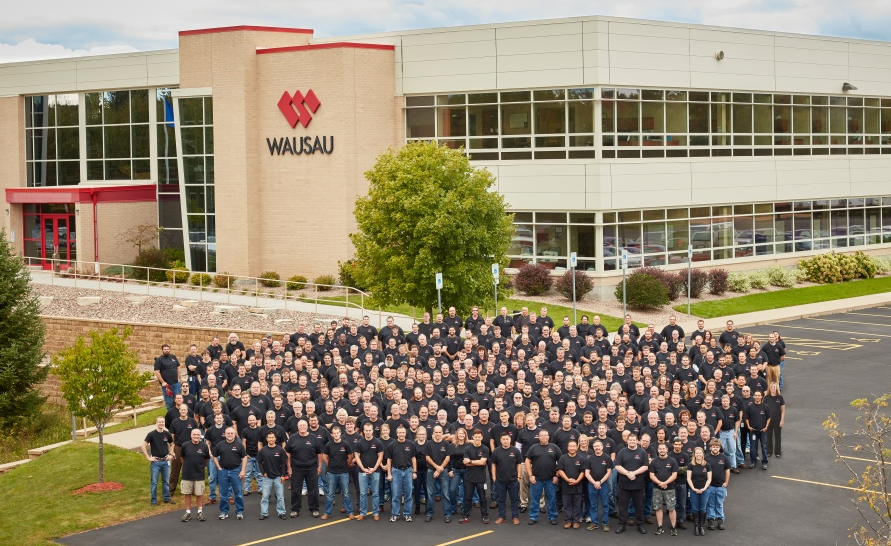 Join Our Team
Be Someone, Not Just Everyone
Why Should You Apply?
Let Our Associates Answer That For You
Koob
"I've been an estimator at Wausau since the day I started. What really stands out to me is how much the other departments work together and interact with each other to achieve goals. Wausau has become a second home for me."
Lisa
21 Years - West Coast Territory Sales Manager
Lisa
"Wausau has provided me many opportunities to develop. I started as an Engineering Designer then progressed to an Engineering Team Leader. Currently, I am a Market Manager for Wausau's west coast territory. There are so many different opportunities and a great group of associates at Wausau. As long as you have the desire to learn and pursue opportunities, you will be successful"
Zach
1 Year - Project Coordinator
Zach
"The communication, the teamwork involved in getting a project completed and the amount continuous improvement activities all have helped me grow in my career. Wausau has given me the tools I needed to grow as a professional and continue to grow."
Trey
4 Years - Senior Manufacturing Lead
Trey
"I started Wausau as a basic production associate which then progressed into a senior manufacturing lead. I like the work environment and even for a manufacturing setting, it's a very clean work environment. Before I started, I didn't have a career. Wausau gave me the opportunity to create and grow my career."
Mai
2 years - Window Production Line
Mai
"When I first started I realized just how organized and neat the production lines are. The workflow is efficient and organized as well. The employees are easy to work with, helpful, and very nice."
Jason
18 years - Operations Trainer
Jason
"Wausau to me is a chance to grow and learn the industry. When I started here I didn't know anything about windows. I've done a ton of field service and got to experience the installation process. I was fortunate to experience many different technical aspects of the industry. Because of everything Wausau has done for me, I am apart of many various initiatives here, have a well-rounded understanding of the industry, and have been given many great career opportunities."
Mike
6 Years - Project Manager
Mike
"When I first started, everyone was really helpful and taught me everything I needed to know. Wausau to me is a community made up of great people that work really hard and care about making a good product for our customers."
Jennifer
1 Year - Sash Lead
Jennifer
"In just one year of working at Wausau I was given the opportunity to take on a supervisor role as a Sash Lead. I am honored to grow as an individual through Wausau."
Tyler
8 Years - Design Engineer
Tyler
"My story with Wausau began when I was simply a summer student in the shop. I was then given opportunities along the way which enabled me to become a design engineer which I currently am today. Wausau enables me to work on complex projects and helps me use my creativity to solve project problems. I enjoy the challenging aspect of it and working on high-profile projects. Who I am today would not have been possible without the help of Wausau providing me with ample learning experiences and pushing my career boundaries."
Job Openings
You Have Options with Wausau Window and Wall Systems!
Wausau Window and Wall Systems offers a competitive benefits package to full-time associates.
Core Values
The guiding principles, beliefs, and actions for every Wausau associate that bind us together as one progressive company
Safe and Enjoyable Work Environment
Safe and Enjoyable Work Environment
Wausau's first core value is a safe and enjoyable work environment. Our workplace culture, facility, equipment, occupational health and safety, and support of healthy lifestyles demonstrate this core value.
Customer Focused
For more than 60 years, customer focus has contributed significantly to our success as a company and our community image.
Respect for the Individual
Respect for the Individual
Respect is demonstrated throughout Wausau Window and Wall Systems in many ways. We take pride in ensuring a respectful atmosphere for everyone.
Honesty and Integrity
There are no exceptions or reasons to compromise honesty and integrity. These two core values are the walls holding Wausau together; making us stable and profitable.
Continuous Improvement
Wausau is always looking to improve our products and processes to ensure customer satisfaction and efficiency. We use continuous improvement tools like Kaizen events and activities, A3 processes and projects, or simply "plan, do, check and act."
Action Orientation
When taking action, we make sure our goals are as specific as possible, and are measurable so we can ensure they have been met. Wausau's goals and actions intersect at the crossroads of challenging and achievable.
Teamwork
Teamwork makes the dream work. When multiple people work on improvement ideas, we make new product advances and enhance working efficiencies thanks to Wausau's team efforts.
Pride of Ownership
With everyone's hard work, efforts, and achievements, we've made the company what it is today. We take pride in Wausau and our collective accomplishments.
Open Communications
Clear lines of open communications enable us to work as one stable, strong company. Communication binds our teams, departments, and company together to ensure we do nothing less than achieve our goals.

Join those who have already found their sense of place in the inviting Greater Wausau Region. Among the rolling hills and lush foliage are miles of hiking, biking and running trails which lead to peaceful evenings and weekends of freedom. And it's all just minutes from home and work. Few communities in the Midwest offer world-class skiing, kayaking, hiking, biking and fishing so close to their home and work.